What I do...
I create beautiful creative photography for a variety of editorial, marketing and corporate clients.

Photographer Glasgow
Based in Glasgow and within striking distance of Scotland's major towns and cities, including Edinburgh, Dundee, Aberdeen and Inverness.

Editorial & Corporate Photography
I have nearly twenty years experience working for clients such as The Guardian, The Independent and The Times. I also work for many health, educational and utility organisations and have a keen interest in the arts, providing photography for several theatre companies.

Passionate about photography
I love photography and so I don't just see it as my job. When I'm not working I'm usually out and about taking pictures for my blog, or just travelling somewhere interesting, hopefully finding an opportunity to get some great photos.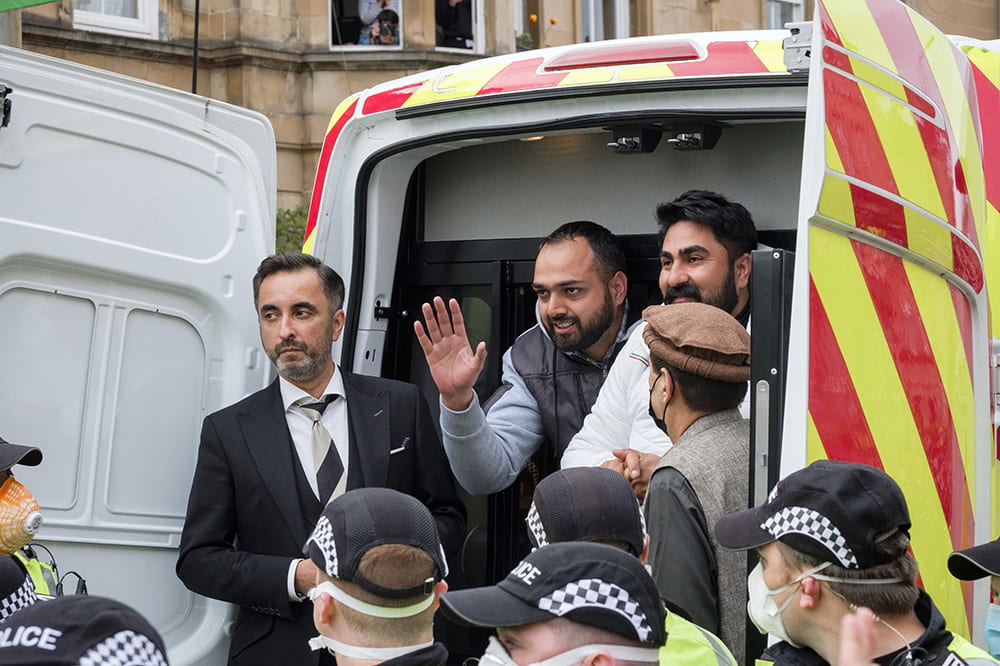 An early morning raid by The Home Office Immigration Enforcement on one of the holiest days in the Muslim calendar is thwarted by the Pollokshields community in Glasgow. Soon after the raid began locals spilled onto Kenmure Street to prevent the immigration van from taking the two men away. A local anonymous resident known as […]
A Glasgow photographer with national reach..
Living in the southside of Glasgow is about the best place to be when it comes to accessing all the major towns and cities in Scotland and the North of England. Actually, I think it's probably the best place to be.. period. So if you want to discuss new projects, help with any queries or would like a quote, just drop me a line and I'll be happy to have a chat or even meet up in Glasgow, (especially as I know where to get the best coffee!)
[email protected]
07711 705346
More about me
What my clients say about my photography....
I'm lucky to be working with some brilliant people.
"Peter Byrne takes a refreshingly considered approach with each piece I have booked him for, taking the time to understand the company, the production and the directors approach. This results in him always capturing the essence of a production and producing high quality images which in turn help to promote the show. I would highly recommend him".
- Dan Baxter, Hull Truck Theatre
"The Family Fund supports the most vulnerable families who are raising a disabled or seriously ill child and working with these families can be challenging. The feedback we receive from families gives us the utmost trust in Peter. He is patient, sensitive and understanding during the photography sessions, which produce warm, positive images that have enhanced our materials. We would commend Peter's work to anyone".
- Elaine Pilmoor, Family Fund
"Peter always understands our brief and produces exactly what we are looking for. He has a great personality which means that the people being photographed are made to feel totally at ease and happy about being in front of the camera. Always reliable, good value – I would have no hesitation in calling on his services again".
- Judith Coates, York St John University
"We have used Peter for a number of corporate assignments  and we have always found him to be extremely professional and helpful. His input and passion has invariably proved invaluable to ensure we achieved the right result. The images he produces are first class and therefore would have no hesitation in recommending Peter and we will certainly be using him again in the future".
- Kirsty de Silva, Morrison Utility Services
"Peter always delivers high quality service and the quality of the photographs have been outstanding. Peter consistently goes out of his way to utilise his expertise and capture the best shots possible and provide plenty of choice. He is an extremely hard working, reliable and friendly".
- Mark Poland, National Skills Academy for Social Care
"The creativity, timing and skills that he brings really captures the essence of our assignments and brings them to life. The images we receive always exceed our expectations, with each shots being carefully considered and crafted to perfection. Not only is Pete an excellent photographer, he is also a great bloke to work with".
- Lee Redpath, Yorkshire Housing